The song of summer to be sung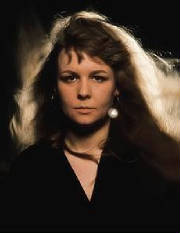 It was in 1968 during her brief six month stint with the Strawbs that Sandy Denny first recorded the song "Who Knows Where The Time Goes". She was an accomplished songwriter and a talented guitarist and pianist, but any discussion of Sandy Denny has to begin with her voice. It was quite an instrument - a pure, haunting sound. The ancient folk-songs she sang seemed to come naturally to it, as did the images of nature and seasons passing that filled her songwriting. "Late November" was one of her song titles, and there was something autumnal about her singing : beneath the beauty, a bitter chill and a sense of things passing. This sense seems to have been always with her. "Who Knows Where The Time Goes," was written when Sandy was just nineteen years old. She was insecure and often lacked belief in her own talent, but she is regarded by many as the UK's finest singer-songwriter and her work has grown in stature over the years. Her effortless, smooth vocal delivery still sets the standard for many of today's female folk-based singers. This is a small thank you note from us to Sandy and to all those she touched with her words, music and voice. All Our Days....
A note: The video of Sandy at the BBC is back on-line again
All Our Days
(Sandy Denny)
We search for everything
Keeping what we would win
Orchids or tiny flowers
Wooden huts or ivory towers
Centuries or hours

Dark are the winter days
Holy in many ways
Vaults of time unshaken
Whilst as through them we are taken
Sleeping forests wake
Ice melts on the lake
Birds begin in making their way back home

The frost and the fire goes
East winds and winter snows
Sun upon the daffodils
Dancing on the verdant hills
Lambs in the fields

Warmer grows the morning sun
Days of youthfulness and fun
The prime of the year begun
The song of summer to be sung
Everything is one
Working day is done
Watch the river running through our lives

How slowly the colours change
We feel the drops of rain
Mists of evening rise again
We rarely stroll the shadowed lanes
As autumn night draws in

We sit upon the sand
Warmth draining from the land
Watching the ruby sun
Setting on the ocean
The echoes in the caves
The flame upon the waves
Memories for saving all our days.