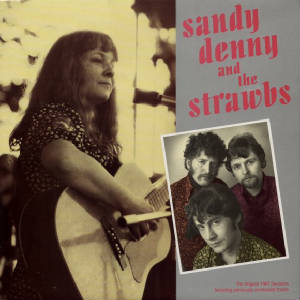 Hannibal HNBL 1361 1991
The Copenhagen tapes were re-released by Joe Boyd's Hannibal label in 1991, though Joe selected different tracks and takes from the vaults in a package tailored to fans of Sandy rather than
The Strawbs
. Nonetheless, as Pickwick isn't likely to resurface with a CD of
All Our Own Work
, it's the best chance around to get some of these classic tracks on CD.
Musicians
Dave Cousins (vocals, guitars)
Tony Hooper (vocals, guitars)
Ron Chesterman (double bass)
Sandy Denny (vocals, guitar)
Ken Gudmand (drums)
Cy Nicklin (sitar)
NOTE: a number of these tracks were recorded at different times - some of the above players played on the Copenhagen sessions, but may not have played on all tracks.
Vinyl: HNBL 1361 (Hannibal, 1991). It believed, by many, at one point that this album had only come out on CD - not true.The L.P. with a single sleeve, with photos of Sandy and Strawbs, including early tinted shot of Cousins, Hooper and Chesterman and live shot of Cousins, Chesterman and Sandy, presumably live at the Tivoli Gardens in Copenhagen. Sleeve notes by Dave Cousins and Joe Boyd. Inner sleeve has large b/w reproduction of intended cover for "All Our Own Work", Hannibal catalogue with cover shots on other side.